Message from the Director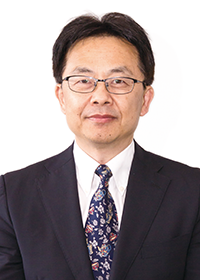 The Graduate School of Business Administration of the University of Kitakyushu (hereinafter referred to as K2BS) was founded in April 2007 as the first business school of a municipal university in Japan. In addition to its general curriculum in the fields of business and public affairs, it has unique curriculum focusing on Chinese business and social business in an interdisciplinary approach.
Chinese business in particular has been attracting attention from local communities with the rapid advancement of economic and social globalization. Deeper understanding and active involvement in Chinese business in Asia, a growing center in the world, has become a pressing issue for us.
In order to deal with such a situation, the Center for Chinese Business Studies (hereinafter referred to as CCBS), was established at K2BS, with an aim to promote comprehensive research studies on Chinese business based on accumulated intellectual assets of the University of Kitakyushu. It will also help local companies and administrative organizations develop globally-minded human resources, thus contributing to the rejuvenation of local communities.
CCBS has concluded academic exchange agreements with universities overseas, particularly in Greater China Region, to deepen exchanges with researchers and business persons there and create unique networks with them. Through this approach, we hope to give back benefits to local companies through research, public seminars, symposiums and overseas study programs.
Your understanding and cooperation with our efforts would be greatly appreciated.
Director, Center for Chinese Business Studies